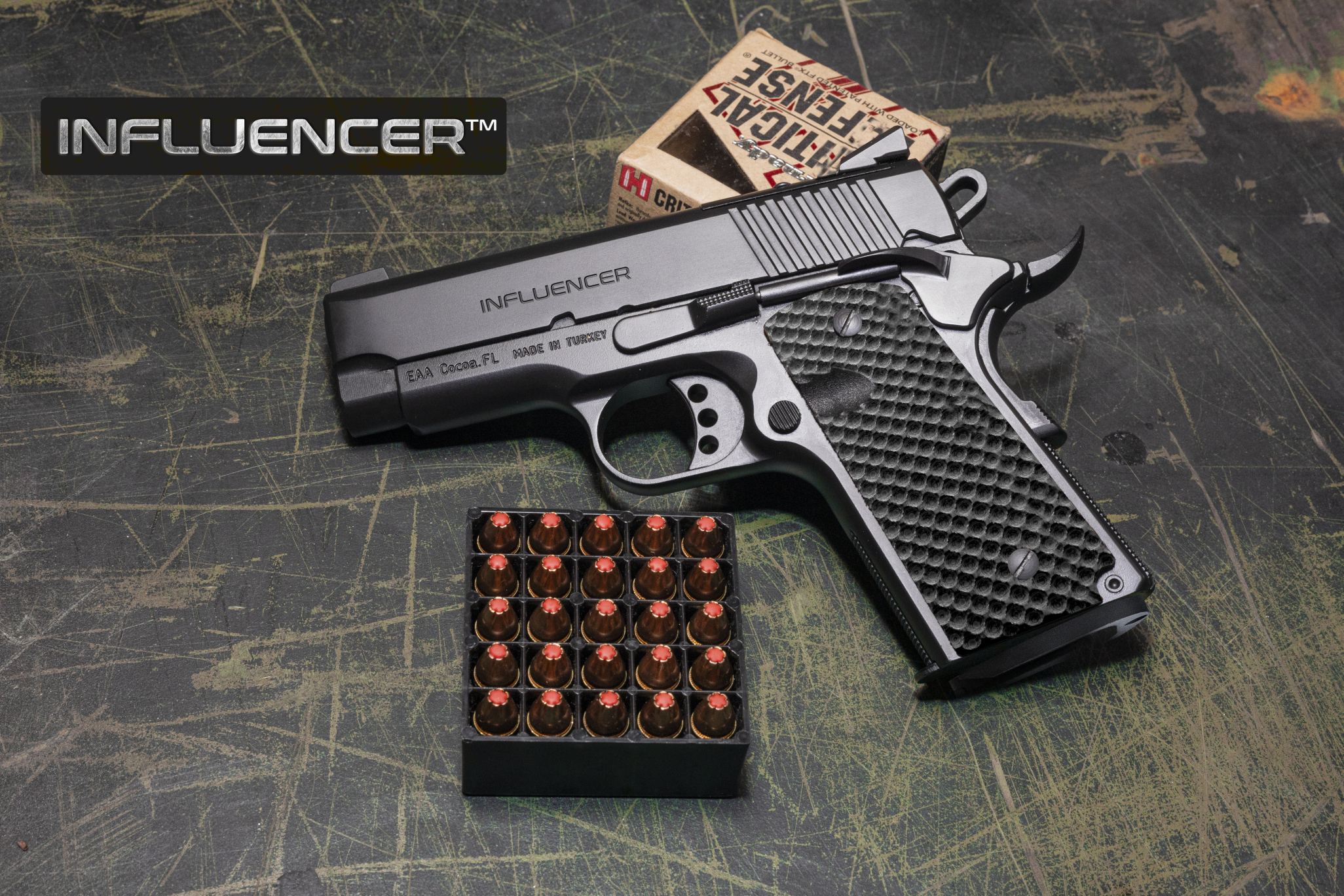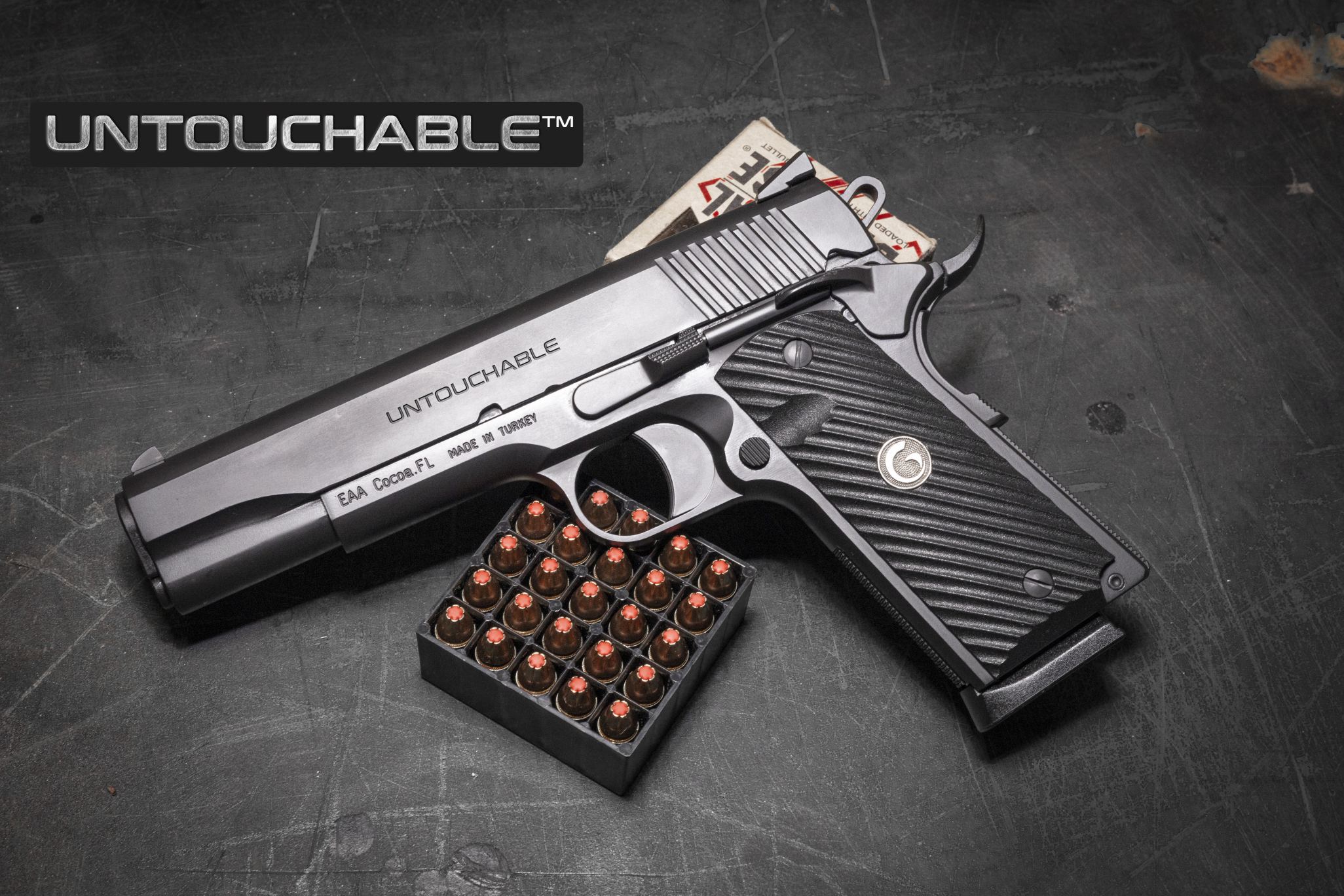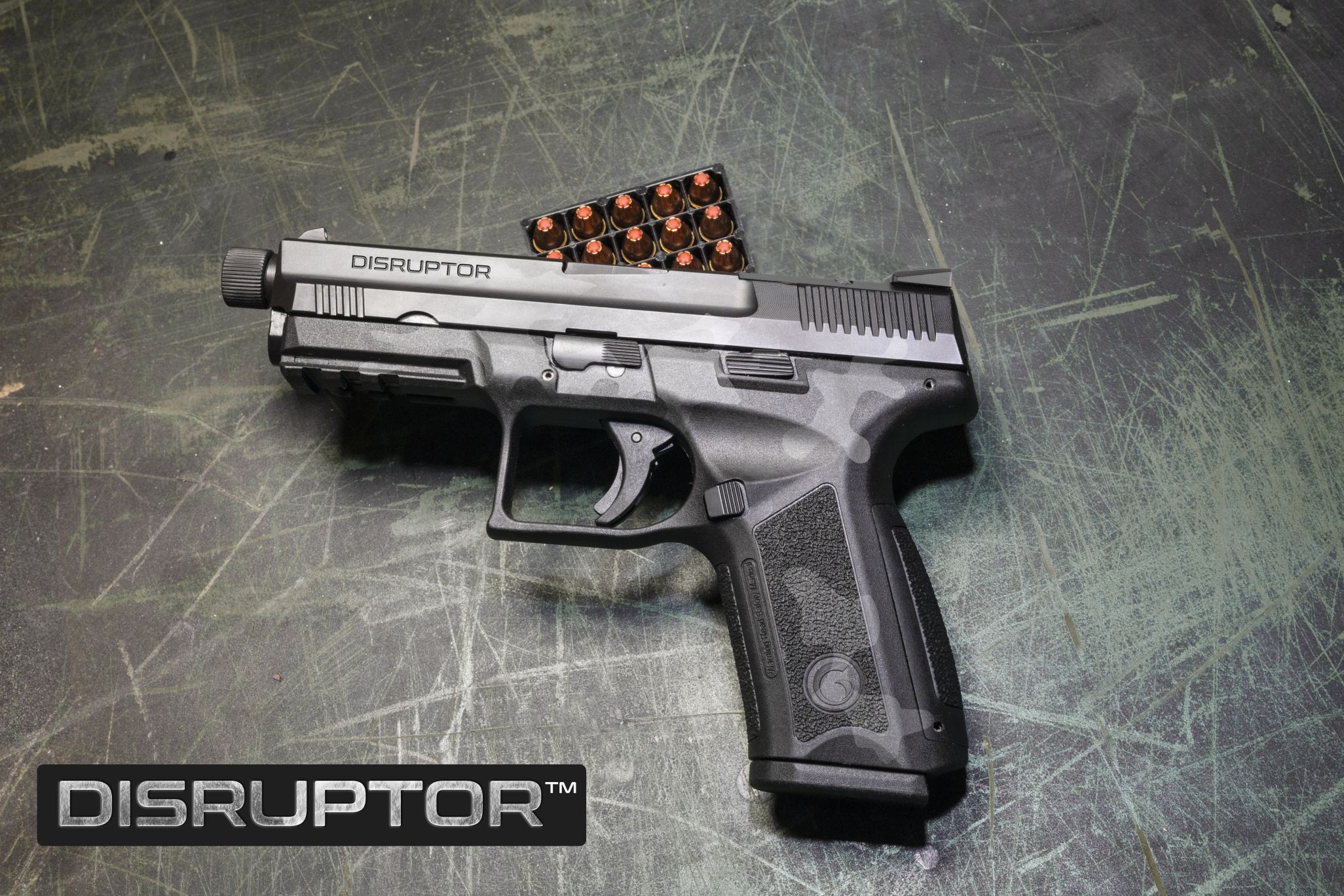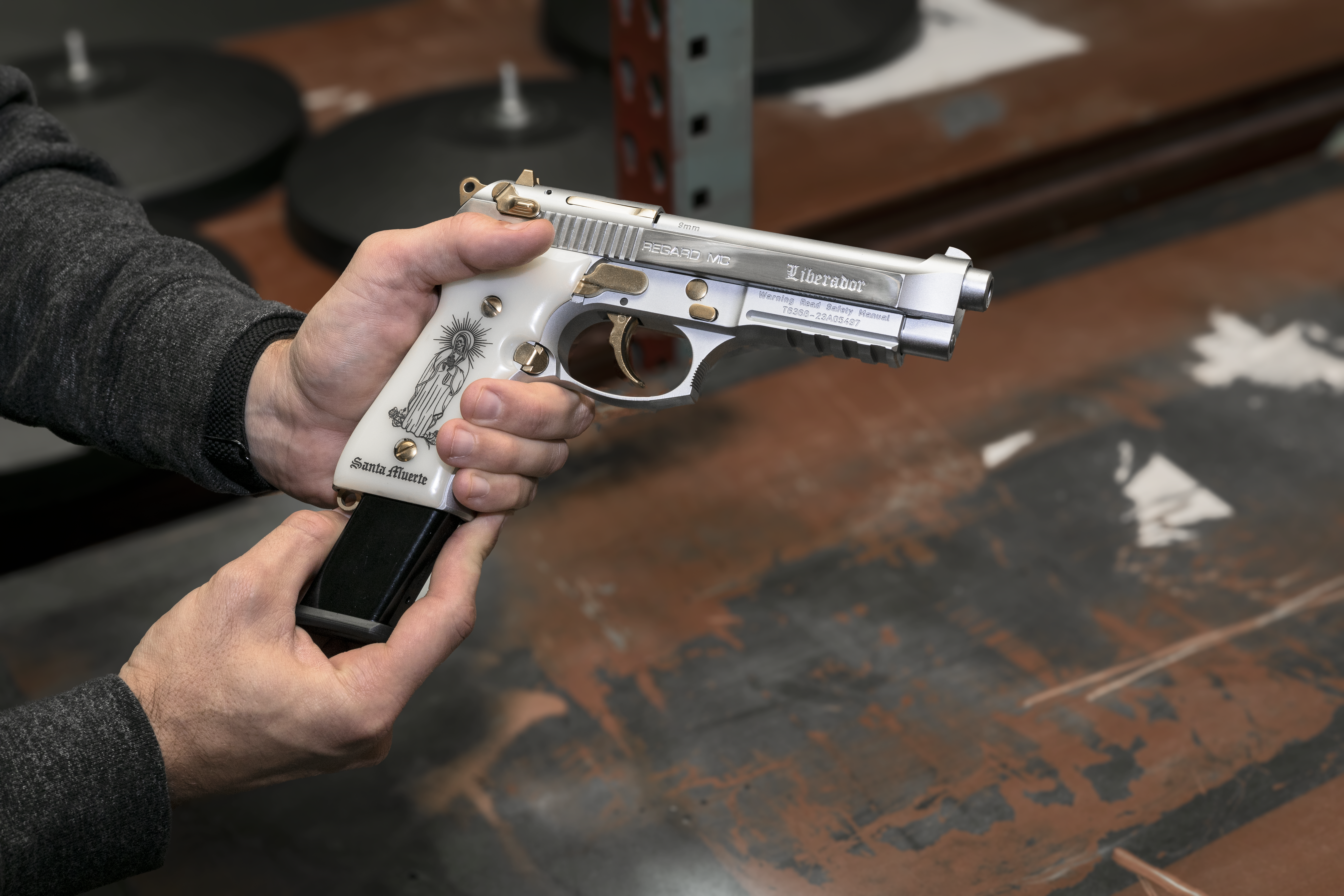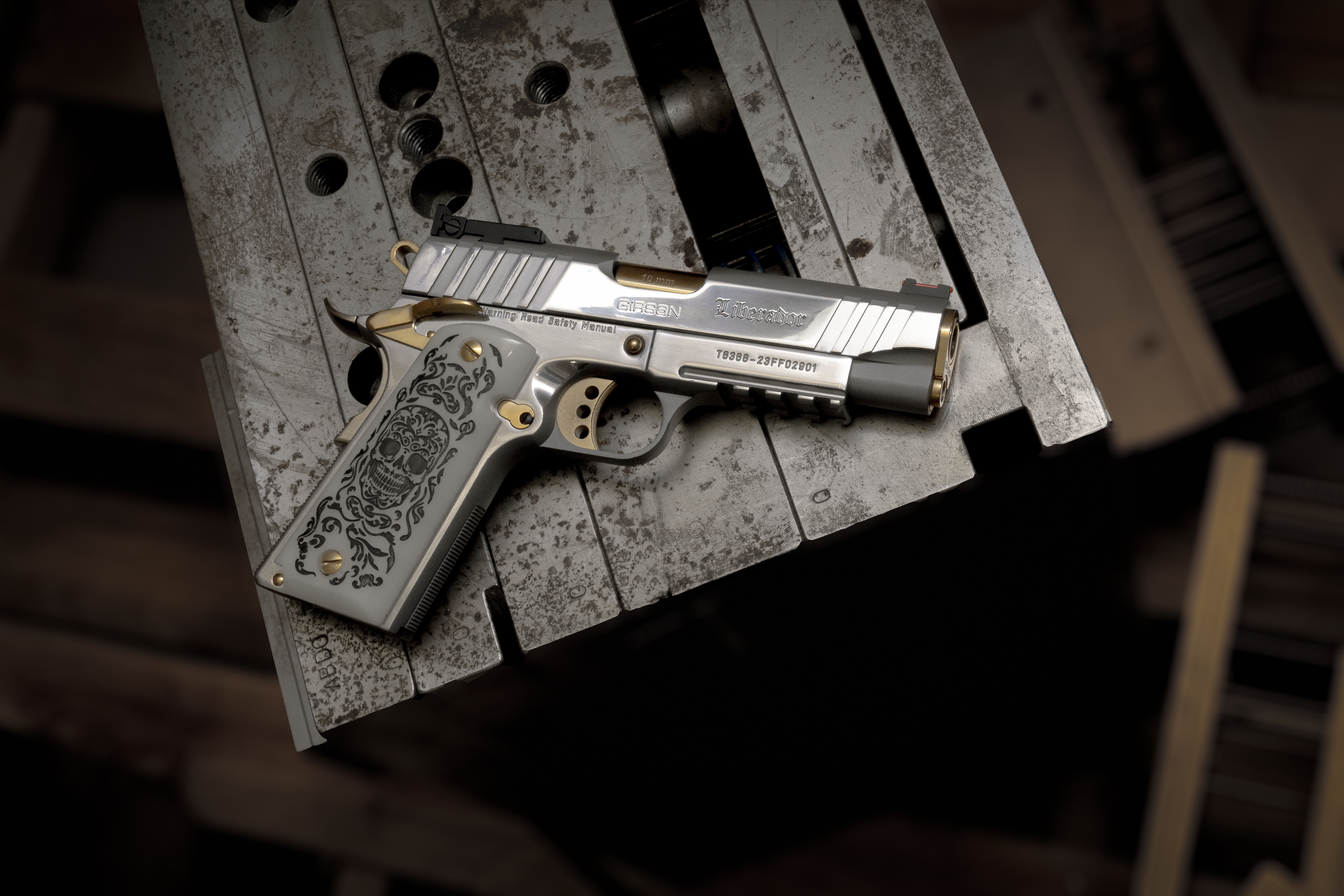 At the NASGW 2023 event, EAA and Girsan are set to unveil their most exciting array of new products to date. These innovative offerings are poised to set new standards in the USA small arms market, boasting exceptional quality, advanced features, and extremely competitive pricing. If you don't stock EAA products, your competition will or is!
The Girsan 1911 Influencer™ is designed to cater to a wide range of preferences, offering multiple barrel lengths, including a 5" barrel (S) model, 4.4" barrel (C) model, and 3.4" barrel (SC) model options, and an array of calibers, such as 9mm, 45acp, 10mm, and 38 Super. This versatility ensures that shooters can find the perfect fit for their needs.
What truly sets the Influencer™ apart is its commitment to excellence without breaking the bank. With a choice of three unique finishes – All-Black, Two-Tone Tungsten, and Black Camo – it's a pistol that not only performs but also looks the part.
But that's not all; the Influencer™ is Optic Ready for RMS/RMSc footprint and features ambidextrous safeties, a 3-holed trigger, extended beavertail, magazine well, limited lifetime warranty, and an accessory rail (S and C models). Matched with comfortable polymer grips providing a secure hold, ensuring that every shot counts.
The Girsan 1911 Untouchable™ is a firearm dedicated to its own name of offering untouchable quality at an untouchable price!
Available in three barrel lengths, 5" barrel (S) model, 4.4" barrel (C) model, and 3.4" (SC) model, catering to various shooting preferences. Customers can choose from different calibers, including 9MM or 45ACP, as well as different finish options such as All-Black, Two-Tone Tungsten, Black Camo, or OD Green Camo. Out of the box, the EAA / Girsan Untouchable™ series is the best value in the USA 1911 platform today.  All EAA / Girsan 1911s are made from forged frames and bar stock slides and barrels (No castings).
The Girsan MC9 Disruptor™ is a pistol designed to disrupt the industry with its exceptional features and unprecedented affordability. Aimed to exceed expectations, the Disruptor™ will be available in two captivating Cerakote finishes: OD Green Camo and Black Camo.
Chambered in 9mm with a 17+1 capacity, the EAA/Girsan MC9 Disruptor™ is a paragon of reliability and durability. Key features for the Disruptor™: Optic Ready (RMS/RMSc), Threaded Barrel, Accessory Rail, Enhanced Striker Trigger, Hi-Tech Cerakote Camo Finish, and Modern Low-Profile Sights. Despite its exceptional features, EAA remains committed to affordability, offering a pistol priced to disrupt the market!
"We take pride in delivering quality firearms at prices that make them accessible to all enthusiasts," said Chase Duffey, Sales and Import Manager at EAA Corp. "The Disruptor™ is going to redefine what is possible for polymer striker-guns at such an unbeatable price."
The Girsan 1911 and Regard MC Liberador Series
One of the highlights of the Liberador series is the Regard MC model, adorned with exquisite Santa Muerte engraved grips. Its striking mirror-polished slide, complemented by polished gold controls and small parts, exudes elegance and sophistication. The Girsan Regard MC Liberador will come complete with, an accessory rail, adjustable sights, ambidextrous slide safety/decocker, lightweight design, custom engraved grips, an 18-round magazine, and an English/Spanish manual and hangtag.
The remaining four variants belong to our MC 1911 series, featuring captivating Sugar Skull pearl-like grips set against a backdrop of a polished stainless-steel slide and frame, accentuated by gold controls and small parts. The MC 1911 Liberador will come in a standard government model in either .45ACP or 9MM with an adjustable rear sight, or a Commander model chambered in 10MM with an adjustable rear sight. EAA/Girsan will also offer a government model with a standard rear sight in .45ACP. All variants will feature an accessory rail, ambidextrous safety, extended beavertail, deep slide serrations, 3-hole trigger, magazine well, low-profile sights and, an English/Spanish manual and hangtag.
We are transitioning to a bilingual website, manuals, and hangtags in Spanish, ensuring that Spanish-speaking gun owners have access to the same high-quality resources as our English-speaking customers.
The Liberador series is a testament to our commitment to respect and appreciation of the diverse heritages that enrich our nation. We invite all firearm enthusiasts to explore the Liberador series and celebrate the unity that firearms can bring to our diverse community.